Student Basketball Party & Game
Søndag d. 5. november kl. 12:30
Sparekassen Danmark Basketball Center
English below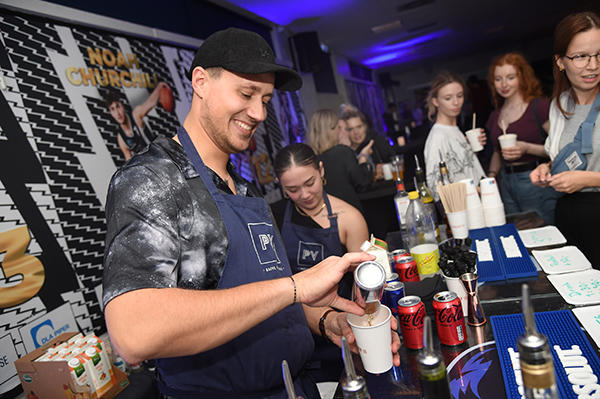 Tag dine studiekammerater under armen og hiv dem med til Student Basketball Party søndag 5. november kl. 12:30!
For fjerde gang inviterer Bakken Bears og Studenterhus Aarhus nemlig dig og alle dine studievenner til et eksklusivt event for studerende, når Bakken Bears møder Værløse Blue Hawks! De sidste to gange har alle billetter været revet væk.
Det er ligegyldigt om du er en ægte Bears-fan, lige er kommet hjem fra efterårserie, skal varme op til eksaminer og jul, eller bare vil føle stemningen fra en sport, du ikke har forstand på – dette event handler bare om, at du og dine studievenner har en fed oplevelse sammen!
Du får:
Den første øl/vand er med i prisen på 25 kr.
med adgang til de studerendes pre-game område fra. 12.30
Super tilbud til de første 50 der ankommer
Fadøl til 25 kr. for medlemmer i Studenterhuset - 30 kr. for alle andre
En lækker madbod
Bar med studievenlige priser
Fed musik
Billetter til kampen er inkluderet (Tipoff 14.00)
Konkurrencer for studerende i game pauser
Gratis adgang til afterparty
Performances fra Bakken Bears Cheer Team og maskotten Grizzly – the one and only!
Masser af holdånd og brøl!
In English

Grab your study buddies and bring them to the Student Basketball Party on Sunday November 5th at 12.30.
The traditional Students' Basketball Party is back at Sparekassen Danmark Basketball Center at Vejlby-Risskov Hallen!
It's the fourth time Bakken Bears and Studenterhus Aarhus invite you and all your classmates to the exclusive student event, when Bakken Bears faces Værløse Blue Hawks! The last two times we ran out of tickets!
Whether you are a true Bears fan or just want to feel the rush from a game you maybe know nothing about, doesn't matter - this event is all about you and your classmates having a good time!
What you get:
Exclusive, pre-game area only for students from 12.30
Only 25 kr. including the first beer/soda
Great secret
offer for the 50 students arriving
Draft beer for 25 DKK for Student House member and 30 kr. for everyone else
Awesome street food
Student-friendly priced bar
Great music
Free tickets for the game (Tipoff at 14.00)
Competitions between students during game breaks
Free entrance to afterparty for students
Performances from Bakken Bears Cheer Team and Grizzly – the one and only Mascot!
Awesome afterparty
Lots of team spirit and roars!
| Type | Pris | Antal | |
| --- | --- | --- | --- |
| Students' Basketball Party incl. 1 øl/vand (1 Beer/soda) | 25,00 DKK | | |